Using Religion to Save the Planet
Using Religion to Save the Planet by Ben Tepfer, JVIbe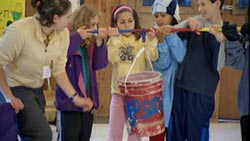 Students at thUsing Religion to Save the Planete Teva Learning Center weigh a bucket of food waste as part of an ongoing exercise and lesson about consumption.
As buckets of garbage were poured onto the tarp where he stood,GreenFaith founder the Rev. Fletcher Harper shared with his New Jersey congregation, "The hardest thing about taking action is sometimes just taking the first step." Their goal was to examine how much waste the church created in one week—and how much of it could be recycled. This was the second step in making the church environmentally sound. The first step had been the installation of solar panels that cost the church virtually nothing; in fact, it saved money on electrical costs. GreenFaith is just one of eight examples given in the groundbreaking documentary Renewal, which tells the stories of religious groups across the country that are looking for solutions to the environmental crisis. The most brilliant idea of the religious ecological movement—combining religion and healing the planet—is that it's not starting from scratch. The immense advantage of a religious group is that it's a community of individuals who share common beliefs. So introducing the goal of achieving greater ecological harmony in its surroundings fits easily because members have similar beliefs and are part of a pre-existing community.
Every religion's scriptures contain references to the importance of the world around us. For Jews, the number of references is extensive. Some are obvious, such as the Garden of Eden, which many believe to be the center of our religion. Yet within days of creation, humans violate the rules of the environment and are, therefore, banned. This is the first of countless examples throughout the Tanach (and even through modern days) in which Jews are separated from their land. This emphasizes the importance of our land to the Jewish people. There's an undeniable correlation between our lives and our planet.
There are other references that are subtler and whose meanings you have to want to see to accept. For Ellen Bernstein, a professor at Hebrew College teaching "Bible as Ecological Literature" and founder of environmental organization Shomrei Adamah in 1988, the Sh'ma "translates ecologically into the simple truth that everything is connected." For Bernstein, this is proof enough that we as humans are part of the land around us; we cannot let it die or force its destruction.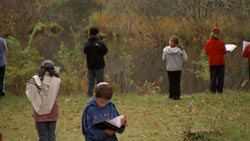 Students pray outdoors in nature at the Teva Learning Center.
But the film shows that Judaism is not the only religion filled with praises of the environment. In Chicago, a Muslim community has partnered with Faith in Place, which established a local farm that raises and slaughters animals in accordance with tradition. This farm has many environmental benefits, like limiting the carbon emitted from transporting meat from locations farther away. The slaughtering process is also more humane and harms the environment less than modern practices. The film also documents religious and ecological achievements in several churches and one Buddhist community.
"Religions speak to the deepest dimensions of human experience and the ways we morally and ethically choose to lead our lives," says lead filmmaker Martin Ostrow, who has an extensive film history, including work for PBS and an Emmy nomination. Ostrow and his team worked hard during filming to be as environmentally friendly as possible by traveling in just one car and reducing air travel.
When it comes to making your life greener, Ostrow and Bernstein know that youth hold the most power. As Ostrow explains, "The most terrible thing you can do is to do nothing because you think you're too young for people to take you seriously." You've heard it before, but it's extremely easy to change your daily life. For example, energy-efficient light bulbs are now priced the same as regular bulbs and last substantially longer.
With the help of organizations featured in the film, such as the Teva Learning Center, ADAMAH: The Jewish Environmental Fellowship and the Interfaith Power and Light campaign, there are opportunities for teenagers to get involved and make changes in their religious and secular communities.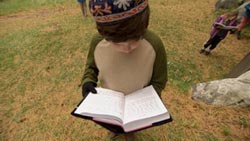 A young student prays with his sidur outside.
At the very least, visit the film's website at renewalproject.net. You can order copies of the DVD and even organize a local screening. And for more on Judaism and the environment, check out the brand-new ecological track at this summer's CAJE 33 in Vermont. There are even scholarships for college students to attend.
I promise the film will help you see religion and life in a new light. It brilliantly illustrates the hope in our country for reuniting humans with the world around them. Perhaps with enough passion and commitment, we can make our way back to the Garden of Eden.
Ben Tepfer is 17 and a senior at Gann Academy in Waltham, Mass. He is the president of the school's Junior State of America chapter and runs a club called Students Taking Action. On the weekends, Ben often goes to concerts, hangs out with friends and catches up on his favorite TV shows. He's also a member of the JVibe Teen Advisory Board.