Reviews About Renewal


Biohabitats Film Review: RENEWAL
by Amy Nelson 12-22-15
As people involved in environmental restoration we understand the power of transformation in the landscape, even the kind which can take decades. Amidst the mounting onslaught of environmental doom and gloom, these transformations offer us hope and provide glimpses of a possible future that differs from the apocalyptic and conflict-fueled visions so common in the media these days.
In the documentary film RENEWAL, we witness a different, but equally inspiring kind of transformation within religious people, communities, and organizations in the U.S. who are reexamining what it means to be in communion with Earth and gaining a new understanding of their role in caring for the environment. Produced in 2007 by documentary filmmakers Marty Ostrow and Terry Kay Rockefeller, RENEWAL is billed as the first feature-length documentary film to capture the vitality and diversity of religious-environmental activists. The 90-minute film is broken into eight vignettes that feature Christians, Muslims, Buddhists, Jews, Native Americans, and several interfaith organizations. Read Full Article>>

Eco-Journey

(the blog of the Environmental Ministries Office of the Presbyterian Church (U.S.A.)
"Renewal" Documentary Offers Inspiration

DVD Showcases People of Faith Working for Eco-Justice
by Katie Holmes, August 4, 2011

Renewal is a documentary with eight stories of how people of faith are working to create environmental justice. The documentary is inspiring, and can be used to involve more people of faith in this important work. The documentary has an accompanying study guide, which can be downloaded online, and used in your congregation. As the film is broken down into 8 short stories, it lends itself well to use in a series of educational classes on caring for creation. Renewal's website also includes a screening guide with helpful tips for planning a screening.

Regardless of where your church is on its journey for eco-justice, Renewal can serve as an inspirational tool. It provides wonderful examples to inspire action in churches that are just getting started in eco-justice work, as well as churches that have long been active and may be looking for new ideas or a new option for eco-justice education. Read Full Article>>


From Community of Christ, Herald

(Volume 158 No. 4)
"Film Uplifts Sacredness of Creation"
by Brad A. Martell, Peace and Justice Ministries
In 2008, I saw the premier of the doc­umentary, Renewal: Stories from Amer­ica's Religious-Environmental Movement, and I excitedly waited for the DVD to be released.
The film quickly filled my mind with ideas for use in my ministry. For me, it's an invaluable resource, and I hope it will be for you and your con­gregation, too.
Renewal is a 90-minute film of eight inspiring stories. They show how faith communities are addressing today's environmental challenges. Read Full Article>>


The BioLogos Forum
[BioLogos' "Science and the Sacred" is pleased to feature essays from various guest voices in the science-and-religion dialogue. Please note the views expressed here are those of the author, not necessarily of The BioLogos Foundation.


This review was written by Kelsey Luoma. Kelsey Luoma is currently a senior at Point Loma Nazarene University in San Diego, California. She will graduate with a bachelor's degree in biology and plans to continue her education in medical school. As an evangelical Christian and student of biology, Luoma is very interested in resolving the conflict between faith and science. In the future, she hopes to serve internationally as a physician.]
Like many of my college-aged contemporaries, I have in recent years become rather selective in the movies and media I choose to absorb. When one's daily planner is soaked through with ink and coated in illegible reminders of exams, research papers, club meetings, social obligations, work hours and volunteer commitments, it becomes necessary to filter out a great deal of unnecessary movie-watching time. Some videos, however, are well worth the effort spent to rearrange one's daily to-do list and sit down for an hour or two. Lately, I was given the opportunity to expand my knowledge of how religion and science can work together through the documentary RENEWAL (read a post from one of the film's creators here). Another ink-scribble was added to my planner, and I carved out time to absorb the content of this inspiring documentary work. They were 90 minutes well spent. Read Full Article>>
The Huffington Post on Renewal:
The Renewal of Religious Environmentalism
by Michael Zimmerman, Ph.D.,
founder, The Clergy Letter Project

At least as far back as the publication in 1967 of the seminal but highly controversial essay, "The Historic Roots of Our Environmental Crisis," by historian Lynn White, Jr., the relationship between religion and environmentalism has been a complicated issue. White argued that Christianity "not only established a dualism of man and nature but also insisted that it is God's will that man exploit nature for his proper ends."

Many religiously affiliated individuals have taken even more extreme and far less nuanced positions. Consider, for example, the position staked out by John Shimkus, a Republican member of Congress from the 19th district in Illinois. He's made it clear that we need not be concerned about environmental problems because God promised Noah that the earth won't be destroyed again. "The earth will end only when God declares its time to be over. Man will not destroy this earth." It's well worth noting that Shimkus is not just a random member of Congress. He holds a seat on the powerful House Energy and Commerce Committee and, as frightening as it might seem, he chairs its Subcommittee on Environment and Economy. Read Full Article>>
Renewal Spreads the Environmental Gospel by Ty Burr, Globe Staff, The Boston Globe
'Renewal' spreads the environmental gospel
Global warming makes strange but useful bedfellows. "Renewal," a documentary by Marty Ostrow and Terry Kay Rockefeller opening at the Museum of Fine Arts today, traces the rise in environmental activism among religious communities throughout America.
The congregations include evangelical Christians in Kentucky and Muslims in Chicago, Connecticut Jews and Mississippi Baptists. All are striving to preserve what they see as God's creation, and all are increasingly working together as conscious stewards of the earth. Says one of the committed, "What gives me hope on this is that I've never seen a wider coalition." Read full article >>
Library Journal
Renewal: Stories from America's Religious-Environmental Movement. color. 90+ min. Marty Ostrow & Terry Kay Rockefeller, Fine Cut Prods., LLC, www.renewalproject.net; Neoflix, PO Box 5665, Hacienda Heights, CA 91745; 626-388-7974. 2008. DVD $39.95; acad. libs. $250. Public performance; closed-captioned. ENVIRONMENT

This "documentary about people of faith building a sustainable future" is divided into nine programs that average under 12 minutes each—a terrific length to spark conversation and debate. Coming from the tenets of Judaism, Catholicism and other Christian denominations, Islam, and Buddhism, these ecofriendly and conservation/recycling ideas are equally as broad and include camps for kids to teach them about God's earth and our responsibility to maintain it as emphasized by ancestral practices; solar power in churches and garbage inventories; ethical and natural food creation; and campaigns to better our world by shedding light on coal companies that are performing mountaintop removal and attempting to convince publishers that using recycled paper and natural inks are fiscally prudent and can be done without aesthetic compromise. The juxtaposition of environmentalism and faith is on the rise, and this DVD stands as a microcosm of this broad movement. The technical quality of the production is solid, and the packaging is recycled. Recommended for most libraries.—Brian Burns, Hampden-Sydney Coll. Lib., VA
Creation Care Magazine
RENEWAL: Stories from America's Religious Environmental Movement
DVD new release, reviewed by Rusty Pritchard

Marty Ostrow and Terry Kay Rockefeller have produced a beautiful documentary look at the surprising growth of environmental awareness and action, not in an interfaith context, but in a broad set of distinctive religious contexts. With compelling stories and images, they chronicle evangelical, mainline, African American, Catholic, Jewish, Muslim and Buddhist American communities as they work to become better stewards of creation. Evangelical viewers will be glad that the film does not promote a soft-headed blending of traditions, but instead explores the diversity of faithful religious expressions on environmental problems. Commonality emerges on its own, as the groups all appear to struggle with what it means to be fully human in the midst of a dominant culture of profligacy and recklessness.

The documentary runs 90 minutes, but each of the segments highlighting a particular faith community is also presented in a standalone format, with extended footage. The segments work well on their own in small group and workshop settings, for starting discussion and providing fodder for conversation. The nature of the film also makes it useful for congregations wanting to host an interfaith dialogue using material that respects the various traditions. For my full review, search for "Renewal DVD" on the deepgreenconversation.org website.
A Green Spiritual Awakening by Keith Goetzman

Kids at a Jewish camp weigh their food waste each day in an attempt to pare it down. Christians sing "Amazing Grace" as another Appalachian mountain is blasted to bits for coal. Muslims in suburban Chicago seek out a local producer of humanely raised, organic, halal meat. The stories of faith driven environmental consciousness in Renewal drive home the point that the green movement is amassing some serious prayer power. It's not a backhanded compliment to say that the film is a hit on the church-basement circuit.
Sojourners Magazine
Visions of a New Earth
The film Renewal: Stories from America's Religious-Environmental Movement contains eight compelling stories of faith-based activism around the country—including how evangelicals have mobilized against mountain-top removal in Appalachia, the ways Catholics and Native Americans have joined to protect natural resources, and what a Jewish camp teaches kids about the environment. The 90-minute doc is great for small groups, as the eight segments can stands alone. www.renewalproject.net
DVD Review by James Plath, Staff Writer, DVD.com
Anyone who's paid attention to the U.S. presidential elections over the past 20 years knows how polarized the country has become. On the one side are pro-environment, pro-choice, pro-government-services, and pro-labor liberals. On the other side are pro-life, pro-state's rights, pro-gun, and pro-business conservatives. Though there are churchgoers on both sides, the "religious right" has claimed family values for the Republican party and has been an influential force in advancing the conservative agenda. That's why it's so striking—even shocking—to watch this documentary from Marty Ostrow and Terry Kay Rockefeller, because "Renewal" bears witness to an emerging religious-environmental movement. That's right. Evangelical tree-huggers. Read full article >>
Filmmakers Marty Ostrow and Terry Kay Rockefeller's Renewal is comprised of eight documentary vignettes, each recording an incident that demonstrates a connection between religious practice and environmental activism in the U.S. The episodes briefly sketch a number of different approaches taken by practitioners of various traditions: Christianity (including evangelicals, Roman Catholics, and several Protestant denominations), Judaism, Islam, Buddhism, and Native American beliefs. One New Jersey congregation updates its facilities to conserve energy; another in Mississippi fights industrial contamination. A mosque develops a relationship with sustainable farms, while a Jewish learning center incorporates environmentalism into its traditional curriculum, and a Buddhist group acts to save forests. In New Mexico, Catholics and Native Americans join in rituals designed to protect natural resources, while in Appalachia evangelicals protest mountaintop mining. As a whole, the film advances the idea that the Earth is a sacred trust that persons of faith must work to preserve, along the way illustrating various means through which religious communities, interfaith movements, and individual believers can respond to that challenge. DVD extras include extended versions of the eight episodes. Recommended. Aud: C, P. (F. Swietek)


Using Religion to Save the Planet by Ben Tepfer, JVIbe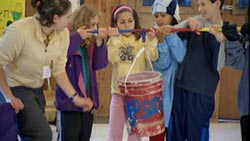 Students at thUsing Religion to Save the Planete Teva Learning Center weigh a bucket of food waste as part of an ongoing exercise and lesson about consumption.
As buckets of garbage were poured onto the tarp where he stood, GreenFaith founder the Rev. Fletcher Harper shared with his New Jersey congregation, "The hardest thing about taking action is sometimes just taking the first step." Their goal was to examine how much waste the church created in one week—and how much of it could be recycled. This was the second step in making the church environmentally sound. The first step had been the installation of solar panels that cost the church virtually nothing; in fact, it saved money on electrical costs. GreenFaith is just one of eight examples given in the groundbreaking documentary Renewal, which tells the stories of religious groups across the country that are looking for solutions to the environmental crisis. Read full article >>